Your career continues here

Jönköping University attracts well-qualified, inventive and enterprising staff from around the world.
Our employees work within a variety of areas and their knowledge base derives from all corners of the globe. A great collective expertise is found at our university. New students, expert researchers, doctoral students with a thirst for knowledge and skilful administrative staff are all brought together at our campus. Together, we work towards the same vision. We develop new knowledge and share our expertise through solid collaborations with industry and business, the public sector and other higher education institutions.
Jönköping University provides numerous professional development opportunities and helps to build your future in the most successful way.
Welcome to Jönköping University!
Vision for Jönköping University
We are leading as a collaborative, internationally connected and globally oriented university.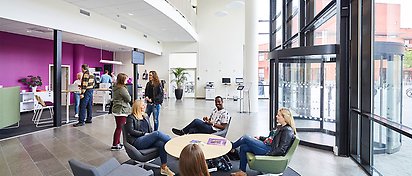 Curious about Jönköping and Jönköping University?
Jönköping University is an independent foundation university comprising four schools. We have around 800 employees and 12,000 students.

Jönköping University offers attractive employment benefits and plenty of opportunities for professional development.
Both on campus and abroad, our employees and students enjoy an exciting and international environment.
Doctoral Theses Defences Every Year
Open positions
Work with us