Content updated 2013-08-02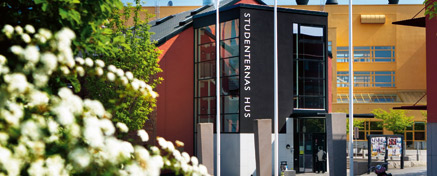 Log in to Student-Ladok

You log in to Student-Ladok with your student account at student.ladok.se. Click on the blue button 'Access through your institution' and search/select 'Jönköping University' in the list of universities, enter your student account and password to proceed.
Services
Student-Ladok is the University's web-based, study administration system. In Student-Ladok you can:
register for courses
register for exams
see your results
create certificates: Certificate of anticipated participation, Certificate of Registration, Result certificate and National result certificate
see your courses
update your contact information
apply for course certificate
apply for your degree certificate

You need to log into Student-Ladok to choose to what email address you want the system to send details on exam results etc. You can find your contact information under 'My pages'.
Registration
All students who continue to study at JU must register on each course at every semester beginning. You can do this one week before the start of the semester in Student-Ladok.
When your registration is open, you can find a link to it from the first page in Student-Ladok. You can see for how long the registration is open and if there are conditions for your admission.

Withdrawal from studies
If you have decided to withdraw from a programme or freestanding course that you are registered on, you must notify the University. Information about withdrawal

External link, opens in new window..
Foreign merits
In Student-Ladok, there is a function called "foreign merits" that allows students to import credits from foreign universities to Ladok for staff through EMREX. In the same way, students can export credits achieved in Sweden to foreign universities. The "foreign merits" function is aimed primarily at exchange students. At present, few foreign universities are connected to EMREX, and the import does not eliminate the need for a credit transfer.
Scheduled Interruptions
June 7, 4:00 am - 6 am
June 21, 4:00 am - 6 am
July 5, 4:00 am - 6 am
July 19, 4:00 am - 6 am
August 2, 4:00 am - 6 am
August 16, 4:00 am - 6 am
August 30, 4:00 am - 6 am
September 30, 4:00 am - 6 am
October 11, 4:00 am - 6 am
October 25, 4:00 am - 6 am

Any questions? Please feel free to contact us via our case management system or visit Service Center.